Gift Of Joy
$

75.00

AUD

-

$

160.00

AUD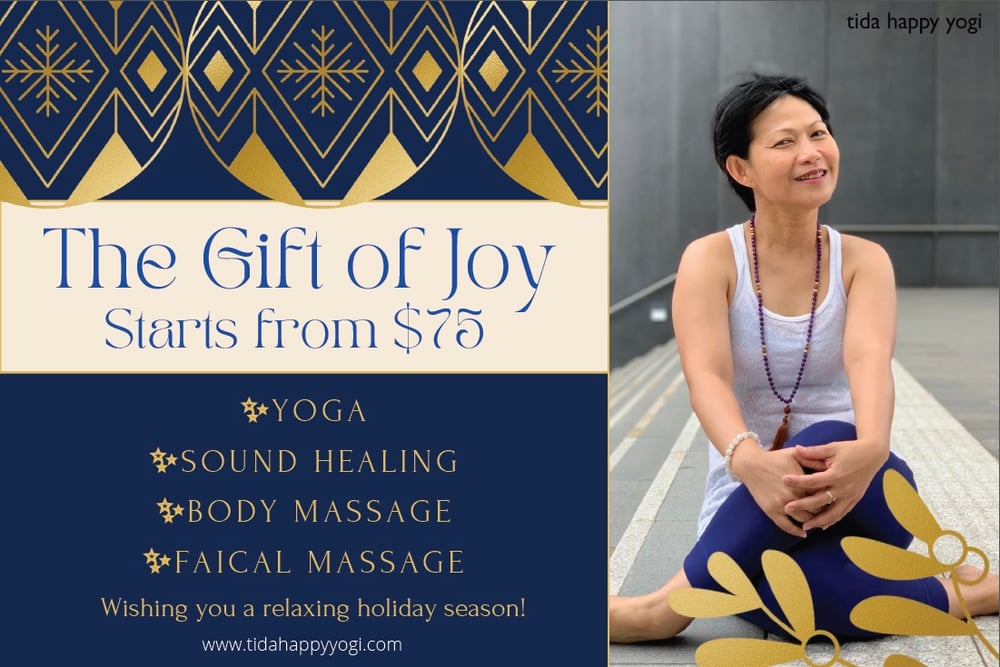 Gift your loved ones or yourself this special offer from Tida Happy Yogi, select from
- Yoga
- Sound healing
- Body massage
- Gua Sha facial massage
Or choose from "Pack of self love" range options below.
🎁 Private Yoga Special Offer*
"A pack of Body Flow Yoga" includes;
- A 60-minute yoga practice that is planned for your needs.
- A 15-minute long deep relaxation with singing bowl sounds.
*An online session is available
🎁 Facial Gua Sha treatment Special Offer
"A pack of Rest in Beauty" includes;
- A 45-minute facial gua sha treatment
- A 30-minute "Deep Relaxation with Singing Bowl sounds" session.
🎁 Bodywork & Massage Special Offers
"A Body Bliss Package"
Package A includes;
- A 60-minute oil body massage with herbal balls
- A 30-minute facial Gua Sha treatment
Or
Package B includes;
- A 2-hour Air sculpture massage therapy with herbal balls
- A complimentary 15 minute head and facial Gua Sha treatment.
Or
Package C includes;
- An hour of a full body massage with Sound and Vibration
To complete the gift pack you will also receive a special gift of a bar of Australian made soap to take home to continue your self love practice.

Do yourself a favour, treat yourself with one of these special packs of self-love.
Gift voucher is also available.
PS* All offers are available for class taken at Tida Happy Yogi's HQ in Chippendale.
Share